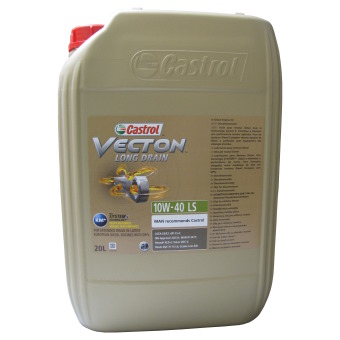 CASTROL
Vecton Long Drain 10W-40 LS
20 l Canister
Product details
Vecton Long Drain 10W-40 LS
Castrol Enduron Low SAPS 10W-40 is oriented especially to the strict requirements of the latest generation of Euro 4/5 engines for which a lubricant with drastically reduced content of sulphated ash, phosphorus and sulfur (low SAPS) is prescribed, thus providing a safe operation.
The design of the formula enables a maximum reduction of exhaust emissions to meet the Euro 4/5 limits. The synthesis technology also allows for the use of the maximum oil change intervals set by OEM.
Application
Castrol Enduron Low SAPS 10W-40 is designed with special regard to the requirement profiles of MAN and Mercedes-Benz for low SAPS oils and their use in commercial vehicles with Euro 4/5 engines.
Benefits
Low SAPS technology optimizes the efficiency of the exhaust after-treatment and thus ensures consistent compliance with the legally prescribed Euro 4/5 limits.
Synthesis technology enables the extension of oil change intervals while taking into account the manufacturer's instructions, resulting in reduced maintenance and downtime.
Minimized wearing protects the aggregates while prolongs their life span.
Best engine cleanliness - the use of additives with strong detergent properties sustainably prevent deposits.
Powerful additives having dispersing properties contribute to an extraordinary soot wear capacity thus minimizing the risk of oil thickening and abrasive wear.
Specifications
ACEA E6, E7
API CI-4
Deutz DQC IV-10LA
MAN M 3477
MB-Approval 228.51
RVI RLD-2 RXD
Scania Low Ash
Volvo VDS 3
DAF - Meets extended drain requirements for MX Euro 4 and Euro 5 engines
Safety Advice GHS

Risk Phrases:
H304: May be fatal if swallowed and enters airways
H413: May cause long lasting harmful effects to aquatic life



---
Gebrauchsnummern
15270761
155A3A
Field of operation
Bus
Heavy commercial vehicles
Light commercial vehicles
Release
ACEA E6
ACEA E7
API CI-4
Deutz DQC IV-10LA
MAN M3477
MB 228.51
Renault RLD-2
Scania Low Ash
Volvo VDS-3
Viscosity
10W-40
Characteristics
Synthetic
Series
Vecton
Hinweise zur Altölentsorgung in Deutschland
Unsachgemäße Beseitigung von Altöl gefährdet die Umwelt. Deshalb holen wir Dein gebrauchtes Verbrennungsmotoren- oder Getriebeöl gern kostenlos bei Dir ab.

Unter der Email-Adresse entsorgung@delti.com kannst Du die Abholung des Altöls und der Gebinde anmelden.

Bitte beachte, dass die Rückholmenge nicht die erworbene Menge übersteigen darf und Du dich unter Angabe der Auftragsnummer an uns wenden kannst. Bitte verpacke die Gebinde in einer Umverpackung und verschließe die Kannen sorgfältig, so dass ein Ölaustritt ausgeschlossen ist.

Die Rückgabe von Altöl ist grundsätzlich auch an Tankstellen oder bei Wertstoffannahmestellen (z.B. Recyclinghof; evtl. gegen eine Gebühr) möglich. Ob Deine örtliche Wertstoffannahmestelle Altöl annimmt, erfährst Du in der Regel vor Ort oder bei der zuständigen Gemeindeauskunft.

Dieser Hinweis und die Regelungen gelten entsprechend auch für Ölfilter und für beim Ölwechsel regelmäßig anfallende ölhaltige Abfälle.