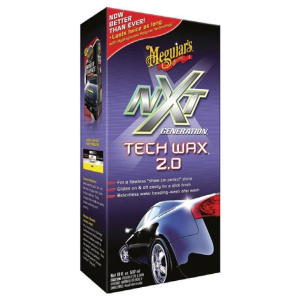 MEGUIAR´S
NXT Tech Wax 2.0
532 mL Bottle
Product details
NXT Tech Wax 2.0
Safety Advice GHS

GHS02:

GHS07:



Signal word:
Danger

Risk Phrases:
H228: Flammable solid
H315: Causes skin irritation
H336: May cause drowsiness or dizziness


Safety Advice:
P102: Keep out of reach of children.
P101: If medical advice is needed, have product container or label at hand.
P210: Keep away from heat, hot surfaces, sparks, open flames and other ignition sources. No smoking.
P260: Do not breathe dust/fume/gas/mist/vapours/spray.
P262: Do not get in eyes, on skin, or on clothing.
P271: Use only outdoors or in a well-ventilated area.
P332+P313: If skin irritation occurs: Get medical advice/attention.
P331: Do NOT induce vomiting.
P301+P310: IF SWALLOWED: Immediately call a POISON CENTER/doctor/…
P370+P378: In case of fire: Use ... to extinguish.

---
Gebrauchsnummern
15381640
5012718
EAN/GTINs

0070382800222



Hinweise zur Altölentsorgung in Deutschland
Unsachgemäße Beseitigung von Altöl gefährdet die Umwelt. Deshalb holen wir Dein gebrauchtes Verbrennungsmotoren- oder Getriebeöl gern kostenlos bei Dir ab.

Unter der Email-Adresse entsorgung@delti.com kannst Du die Abholung des Altöls und der Gebinde anmelden.

Bitte beachte, dass die Rückholmenge nicht die erworbene Menge übersteigen darf und Du dich unter Angabe der Auftragsnummer an uns wenden kannst. Bitte verpacke die Gebinde in einer Umverpackung und verschließe die Kannen sorgfältig, so dass ein Ölaustritt ausgeschlossen ist.

Die Rückgabe von Altöl ist grundsätzlich auch an Tankstellen oder bei Wertstoffannahmestellen (z.B. Recyclinghof; evtl. gegen eine Gebühr) möglich. Ob Deine örtliche Wertstoffannahmestelle Altöl annimmt, erfährst Du in der Regel vor Ort oder bei der zuständigen Gemeindeauskunft.

Dieser Hinweis und die Regelungen gelten entsprechend auch für Ölfilter und für beim Ölwechsel regelmäßig anfallende ölhaltige Abfälle.