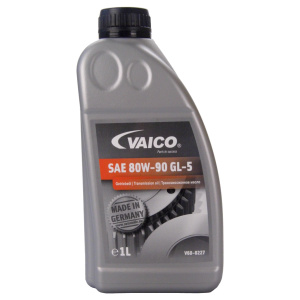 Product details
80W-90 GL5
Safety Advice GHS

GHS07:



Signal word:
Warning

Risk Phrases:
H319: Causes serious eye irritation
H317: May cause an allergic skin reaction


Safety Advice:
P501: Dispose of contents/container to ...
P337+P313: If eye irritation persists: Get medical advice/attention.
P333+P313: If skin irritation or rash occurs: Get medical advice/attention.
P305+P351+P338: IF IN EYES: Rinse cautiously with water for several minutes. Remove contact lenses, if present and easy to do. Continue rinsing.
P263: Avoid contact during pregnancy and while nursing.
P280: Wear protective gloves/protective clothing/eye protection/face protection.

---
Gebrauchsnummern
12033470
V60-0227
Release
API GL5
Ford SQM-2C9002-AA
MAN 342 Typ-M1
MIL L-2105 C
MIL-L 2105 D
Mercedes-Benz 235.0
Volvo 97310
ZF TE-ML 16C
ZF TE-ML 17B
ZF TE-ML 19B
ZF TE-ML 21A
Viscosity
80W-90
EAN/GTINs

4046001596032



Hinweise zur Altölentsorgung in Deutschland
Unsachgemäße Beseitigung von Altöl gefährdet die Umwelt. Deshalb holen wir Dein gebrauchtes Verbrennungsmotoren- oder Getriebeöl gern kostenlos bei Dir ab.

Unter der Email-Adresse entsorgung@delti.com kannst Du die Abholung des Altöls und der Gebinde anmelden.

Bitte beachte, dass die Rückholmenge nicht die erworbene Menge übersteigen darf und Du dich unter Angabe der Auftragsnummer an uns wenden kannst. Bitte verpacke die Gebinde in einer Umverpackung und verschließe die Kannen sorgfältig, so dass ein Ölaustritt ausgeschlossen ist.

Die Rückgabe von Altöl ist grundsätzlich auch an Tankstellen oder bei Wertstoffannahmestellen (z.B. Recyclinghof; evtl. gegen eine Gebühr) möglich. Ob Deine örtliche Wertstoffannahmestelle Altöl annimmt, erfährst Du in der Regel vor Ort oder bei der zuständigen Gemeindeauskunft.

Dieser Hinweis und die Regelungen gelten entsprechend auch für Ölfilter und für beim Ölwechsel regelmäßig anfallende ölhaltige Abfälle.