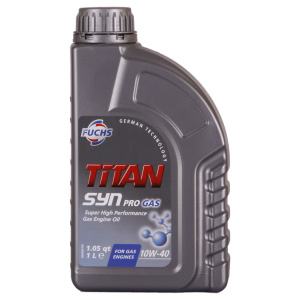 FUCHS
Titan SYN Pro Gas 10W-40
1 l Can
Product details
Titan SYN Pro Gas 10W-40
Super High Performance gas engine oil for cars and vans, specially developed for LPG and CNG fueled gas engines.
FUCHS, with the TITAN PRO-GAS series, has a series on specialty motor oils planned, which work perfectly with gas engines and guarantee a reliable and long-lasting use. These oils have successfully proved their extraordinary properties in numerous studies and test runs. These products are very low in harmful substances and help prevent deposits in the combustion chamber with their special formula. Their unique lubrication technology makes these oils extremely resistant to aging, protecting significantly longer from thickening, clumping and turning soapy than regular motor oils. The use of a specialty motor oil is also an economic point of interesting.
For example, in TITAN SYN PRO GAS SAE 10W-30 the low clumping results in up to 23% less oil consumption than other synthetic motor oils. The low inner friction also allows an additional fuel economy of up to 3%.
Specifications and Approvals:
ACEAA3/B4
API SL
MB-FREIGABE 229.1
Fuchs Recommendations:
BMW SPEZIAL
CHEVROLET
FIAT 9.55535-G2
VW 500 00
---
Gebrauchsnummern
14484624
600715137
Field of operation
Car
Release
ACEA A3
ACEA B4
API SL
Fiat 9.55535-G2
MB 229.1
VW 500.00
Viscosity
10W-40
Hinweise zur Altölentsorgung in Deutschland
Unsachgemäße Beseitigung von Altöl gefährdet die Umwelt. Deshalb holen wir Dein gebrauchtes Verbrennungsmotoren- oder Getriebeöl gern kostenlos bei Dir ab.

Unter der Email-Adresse entsorgung@delti.com kannst Du die Abholung des Altöls und der Gebinde anmelden.

Bitte beachte, dass die Rückholmenge nicht die erworbene Menge übersteigen darf und Du dich unter Angabe der Auftragsnummer an uns wenden kannst. Bitte verpacke die Gebinde in einer Umverpackung und verschließe die Kannen sorgfältig, so dass ein Ölaustritt ausgeschlossen ist.

Die Rückgabe von Altöl ist grundsätzlich auch an Tankstellen oder bei Wertstoffannahmestellen (z.B. Recyclinghof; evtl. gegen eine Gebühr) möglich. Ob Deine örtliche Wertstoffannahmestelle Altöl annimmt, erfährst Du in der Regel vor Ort oder bei der zuständigen Gemeindeauskunft.

Dieser Hinweis und die Regelungen gelten entsprechend auch für Ölfilter und für beim Ölwechsel regelmäßig anfallende ölhaltige Abfälle.