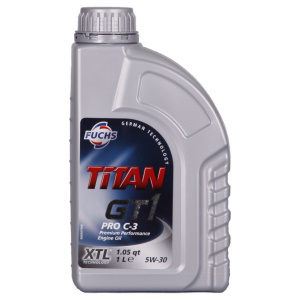 FUCHS
Titan GT1 Pro C-3 5W-30
Product details
Titan GT1 Pro C-3 5W-30
Fuchs Titan GT1 Pro C-3 5W-30 is a premium, top-class motor oil for modern cars and vans, with or without extended service intervals. Specially designed and approved for VW, BMW and Mercedes-Benz vehicles with particulate filters and turbo loading. Optimum when firing up the engine in cold weather, low oil consumption, reduced harmful emissions.
designed for modern cars and vans with or without extended service intervals.
reduced wear when firing up the engine in cold weather because of how quickly the lubricant spreads
significantly reduced harmful emissions, an advantage for the environment
significantly reduced fuel and oil consumption
a good choice for independent workshop
Specifications and Approvals:
BMW LONGLIFE-04
MB 229.51
Porsche C30
VW 504.00
VW 507.00
Fuchs Recommendations:
ACEA A3/B4/C3
FORD M2C917-A
---
Gebrauchsnummern
14484592
600756253
Field of operation
Car
Release
BMW LL 04
FIAT 9.55535-S3
Ford WSS-M2C 917-A
MB 229.51
Porsche C30
VW 504.00
VW 507.00
Viscosity
5W-30
Characteristics
All-season oil
Extended Service Interval
Low-viscosity oil
Particulate filter
Synthetic
Series
Titan GT1
EAN/GTINs

4001541227464



Hinweise zur Altölentsorgung in Deutschland
Unsachgemäße Beseitigung von Altöl gefährdet die Umwelt. Deshalb holen wir Dein gebrauchtes Verbrennungsmotoren- oder Getriebeöl gern kostenlos bei Dir ab.

Unter der Email-Adresse entsorgung@delti.com kannst Du die Abholung des Altöls und der Gebinde anmelden.

Bitte beachte, dass die Rückholmenge nicht die erworbene Menge übersteigen darf und Du dich unter Angabe der Auftragsnummer an uns wenden kannst. Bitte verpacke die Gebinde in einer Umverpackung und verschließe die Kannen sorgfältig, so dass ein Ölaustritt ausgeschlossen ist.

Die Rückgabe von Altöl ist grundsätzlich auch an Tankstellen oder bei Wertstoffannahmestellen (z.B. Recyclinghof; evtl. gegen eine Gebühr) möglich. Ob Deine örtliche Wertstoffannahmestelle Altöl annimmt, erfährst Du in der Regel vor Ort oder bei der zuständigen Gemeindeauskunft.

Dieser Hinweis und die Regelungen gelten entsprechend auch für Ölfilter und für beim Ölwechsel regelmäßig anfallende ölhaltige Abfälle.