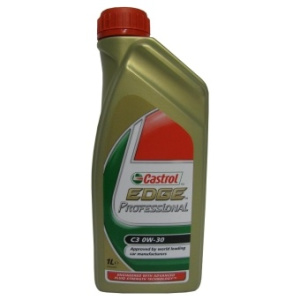 CASTROL
EDGE Professional Titanium FST C3 0W-30
1 l Can
Product details
EDGE Professional Titanium FST C3 0W-30
In addition to the well known Castrol EDGE FST products, we also have a select range of Castrol EDGE Professional oils. Castrol EDGE Professional motor oils were originally developed by Castrol exclusively for contracted Garages and car dealerships, while being the successor to Castrols SLX series. All Castrol EDGE Professional oils possess special OEM referrals depending on its purpose.
Castrol EDGE Professional C3 0W-30 - Successor to the Castrol SLX Professional Powerflow BMW Longlife 04 0W-30
Castrol EDGE Professional with Fluid Strength Technology ™ is Castrol's strongest and most advanced engine oil series. The low-friction viscosity reduces friction within the engine which ensures noticeably more power and less fuel consumption. Castrol's microfiltration system provides a extremely pure oil. To be clearly identified as a Castrol EDGE Professional Premium Product the oil is marked with a authentic feature, namely a fluorescent dye which can be seen under bright UV light.
Castrol Professional C3 0W-30 has an extremely low content of sulphated ash, phosphorus and sulfur, in order to protect the exhaust gas after treatment systems and to extend service life.
According to the approvals ACEA C2, C3 or API SN/CF Castrol EDGE Professional C3 0W-30 is suitable for vehicles that require engine lubricants with the a 0W-30 viscosity.
Benefits:
Castrol Fluid Strength Technology ™ ensures minimum wear and maximum engine performance with a thin and stable lubrication film.
Castrol EDGE Professional reduces friction in the engine by up to 40% and retains its unsurpassed performance 40% longer than the best competing products.
Unsurpassed wear protection under all conditions.
Protects exhaust after treatment systems through a reduced content of sulphated ash, phosphor and sulfur (low SAPS)
Specifications:
ACEA C2, C3
API SN/CF
BMW Longlife-04
MB 229.31/229.51
VW 502.00/505.00
---
Gebrauchsnummern
14814817
15349E
Field of operation
Car
Release
ACEA C3
API SN
BMW LL 04
Dexos 2
MB 229.31
MB 229.51
Renault RN 0700
Renault RN 0710
VW 502.00
VW 505.00
Viscosity
0W-30
Characteristics
Fully synthetic
Particulate filter
Series
EDGE Professional Titanium FST
EAN/GTINs

4008177077210



Hinweise zur Altölentsorgung in Deutschland
Unsachgemäße Beseitigung von Altöl gefährdet die Umwelt. Deshalb holen wir Dein gebrauchtes Verbrennungsmotoren- oder Getriebeöl gern kostenlos bei Dir ab.

Unter der Email-Adresse entsorgung@delti.com kannst Du die Abholung des Altöls und der Gebinde anmelden.

Bitte beachte, dass die Rückholmenge nicht die erworbene Menge übersteigen darf und Du dich unter Angabe der Auftragsnummer an uns wenden kannst. Bitte verpacke die Gebinde in einer Umverpackung und verschließe die Kannen sorgfältig, so dass ein Ölaustritt ausgeschlossen ist.

Die Rückgabe von Altöl ist grundsätzlich auch an Tankstellen oder bei Wertstoffannahmestellen (z.B. Recyclinghof; evtl. gegen eine Gebühr) möglich. Ob Deine örtliche Wertstoffannahmestelle Altöl annimmt, erfährst Du in der Regel vor Ort oder bei der zuständigen Gemeindeauskunft.

Dieser Hinweis und die Regelungen gelten entsprechend auch für Ölfilter und für beim Ölwechsel regelmäßig anfallende ölhaltige Abfälle.