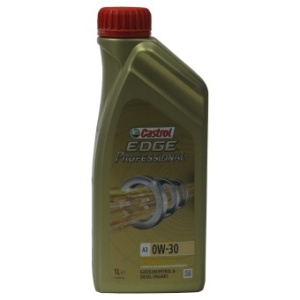 CASTROL
EDGE Professional Titanium FST A3 0W-30
Product details
EDGE Professional Titanium FST A3 0W-30
In addition to the well known Castrol EDGE FST products, we also have a select range of Castrol EDGE Professional oils. Castrol EDGE Professional motor oils were originally developed by Castrol exclusively for contracted Garages and car dealerships, while being the successor to Castrols SLX series. All Castrol EDGE Professional oils possess special OEM referrals depending on its purpose.
Castrol EDGE Professional A3 0W-30 - Successor to the Castrol 0W-30 SLX Professional Longtec
Castrol EDGE Professional with Fluid Strength Technology ™ is Castrol's strongest and most advanced engine oil series.
Castrol EDGE Professional A3 0W-30 was developed in collaboration with leading engine manufacturers, specifically for supercharged petrol and common-rail diesel engines. Castrol EDGE Professional A3 0W-30 is a full synthetic motor oil with exceptional full synthesis - and additive technology.
The high-tech product formula of Castrol EDGE Professional A3 0W-30 combines both excellent technical performance with economic and ecological benefits.
Benefits:
Extremely durable, very high lubrication reliability and protection against wear, even under extraordinary operating conditions and extended oil change intervals
Very fast lubricant supply to the engine, especially the lash after a cold start and providing stable oil pressure
Product design allows long oil change intervals for various manufacturers
High fuel saving potential
Specifications and Approvals:
ACEA A3/B3/B4
API SL/CF
BMW LL 01
MB 229.3 MB 229.5
VW 502.00/505.00
---
Gebrauchsnummern
14814793
15357B
Field of operation
Car
Release
ACEA A3
ACEA B3
ACEA B4
API CF
API SL
BMW LL 01
Fiat 9.55535-G1
MB 229.3
MB 229.5
VW 502.00
VW 505.00
Viscosity
0W-30
Characteristics
Fully synthetic
Series
EDGE Professional Titanium FST
EAN/GTINs

4008177072710



Hinweise zur Altölentsorgung in Deutschland
Unsachgemäße Beseitigung von Altöl gefährdet die Umwelt. Deshalb holen wir Dein gebrauchtes Verbrennungsmotoren- oder Getriebeöl gern kostenlos bei Dir ab.

Unter der Email-Adresse entsorgung@delti.com kannst Du die Abholung des Altöls und der Gebinde anmelden.

Bitte beachte, dass die Rückholmenge nicht die erworbene Menge übersteigen darf und Du dich unter Angabe der Auftragsnummer an uns wenden kannst. Bitte verpacke die Gebinde in einer Umverpackung und verschließe die Kannen sorgfältig, so dass ein Ölaustritt ausgeschlossen ist.

Die Rückgabe von Altöl ist grundsätzlich auch an Tankstellen oder bei Wertstoffannahmestellen (z.B. Recyclinghof; evtl. gegen eine Gebühr) möglich. Ob Deine örtliche Wertstoffannahmestelle Altöl annimmt, erfährst Du in der Regel vor Ort oder bei der zuständigen Gemeindeauskunft.

Dieser Hinweis und die Regelungen gelten entsprechend auch für Ölfilter und für beim Ölwechsel regelmäßig anfallende ölhaltige Abfälle.